(Dates, Times & Program – Subject to Change)
Members Only:
Google Calendar (Members Only)
Due to COVID-19 – Some in-person meetings may be cancelled
Meetings may be held on Zoom (instead)!
Only vaccinated individuals are invited to attend our in-person meetings. Arrangements can be made to attend virtually, for unvaccinated individuals.
(Some meetings, or portions of them, are recorded, and are available to be viewed for one month after the meeting)
---
Join us at our
Branch Meetings
(2022-2023)
Visitors welcome!
(email the Branch for more information!)
For zoom meetings, email the branch for the login information
(Dates, Meeting times, and Programs – Subject to change)
Meetings will be held at Crossroads Building at St Peters Church, Freehold
unless otherwise noted
September 8, 2022 (1 PM) – Speakers from the League of Women Voters
October 13, 2022 (1 PM) – Speaker from the Freehold Historic Commission
November 10, 2022 (7 PM) – Speaker: Arlene Smelson – Presentation: "Historians Ourselves" (seeing COVID through children's art around the world)
December 8, 2022 (Replaced by Holiday Celebration Luncheon)
January 12, 2023 (1 PM) on Zoom – Speakers: Caryn Alter & Karen Morgan from Centrastate Medical Center gave a great presentation on Women's Heart Health!
February 9, 2023 (7 PM) on Zoom
Lew 2022-2023 Williams & Joan Odud Scholarships were presented to Lori Bivona and Nicole Galante
Speaker: Edwina Sessons – Edwina is a long time member of NAACP and has been our AAUW State Diversity Chair since 2017. Edwina spoke about AAUW's commitment to promoting inclusion and diversity in our country.
April 20, 2023 (1 PM) – Games at Crossroads Building at St Peters Church
May 11, 2023 (7 PM) – Speaker: Essential Oils, Outstanding High School Students' Awards – On Zoom
June 8, 2023 (Replaced by Recognition Luncheon/Picnic) – Battleground State Park (Manalapan)
---
Board Meetings

(2022-2023)
(All Members invited to attend)
---
Meetings at Other Venues
2022 – 2023
March 9, 2023 (Inter-Branch Meeting) (1 PM) – Brookdale Community College, Freehold Campus, 3680 US-9 (Room 103-104), Freehold, NJ 07728  
Carol Simon Levin
Thanks to Carol Simon Levin for a wonderful and educational presentation!  Please email us and request the link to her presentation, if you missed it!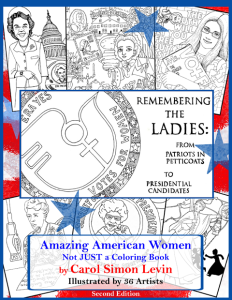 Remembering the Ladies invites readers to discover the contributions of 69 courageous and tenacious women of all colors and creeds who fought for women's rights and women's lives. Each two page spread includes a full page bio, a fascinating fact and a quotation along with a coloring page, further reading, places to visit, and suggestions for activities and activism. To make it more accessible, Remembering the Ladies is now available as a free e-book.
June 8, 2023 (Recognition Luncheon/Picnic) – Battleground State Park, Manalapan
---
Become a member of our Branch at one of our "Public Events" (such as at a Branch Meeting) and save on first year dues.

Save on National & State Dues when you join at a public event
Dues are collected in May and June of each year for the next fiscal year (July to June)
See our Membership Page for more information on joining our Branch
---
Freehold Branch Contacts
For general inquiries, please contact us via email!
Someone from our Branch will reply to you.
---
For Members (Only)  [Password Required]:

Please see the last page of the Newsletter for updates to the current Program Schedule,
See the Trips & Treks (Cultural Affairs) Page for information on upcoming Trips.
Look out for our Google Group emails, for timely updates.