Freehold AAUW Programs
(September 2020 – June 2021)
(Dates and Times – Subject to Change)
(email the Branch for more information!)
Due to COVID-19 – All in-person meetings (unless otherwise noted) are cancelled
Meetings will be held on Zoom (instead)!
Visitors welcome!
---
Interest Groups & Activities
(Dates and Times – Subject to Change)
Monday        

                3rd. Mon.      Soup Kitchen  (10:30 AM – 1:30 PM)  (November to March)
Tuesday

              Every Tues.              Book Sort  (10:00 AM – 12:00 PM) – (October to June) 
              1st. Tues.                 Cinema Groups (12:30 PM) (or other dates announced)
              2nd. Tues.               Lunch Bunch (12:30 PM)  (September to June)
              3rd. or 4th. Tues.   Great Decisions (12:30 PM)
              4th. Tues.                 3 Daytime Book Discussion Groups (12:30 or 1:00PM)
The BOOKMARKS Book Discussion Group
FEED N' READ Book Discussion Group
MS. PRINTS Book Discussion Group
Wednesday    
              2nd Wed.              Wednesday Afternoon Book Discussion Group (1:30 PM) 
               3rd. Wed.             Cultural Affairs (Trips & Treks) (for members only)
                                             (or other dates announced)
Thursday  
 Every Thurs.               Book Sort – 10:00 am – 12:00 PM (Apr. – Jun.)
                                                        Canasta Group (Beginners) – 12:30
                                                        Bridge Group – 1:00 – 3:00 PM
 2nd or 3rd Thurs.     Branch Meetings at the  West Freehold Elementary School
7:00 PM Snack & Chat, 7:30 PM Meeting start
(sometimes meets at Manalapan Community Center)
 3rd or 4th Thurs.    Travel Info Group – 1:00 – 3:30 PM  (Oct. & Nov. Apr. & May)
                                        (Sometimes meets on Tuesday or Wednesday)
Friday  
Every Fri.                    Canasta Group (Advanced) (1:00 PM)
                3rd Fri.                        BOOKS N' MORE Book Discussion Group (11:15 AM)
(or other dates and times, as announced)
---
ON HOLD: 
   Art History Group (Chair needed)
  Supper Club (Chair needed)
---
Branch Meetings

(Dates subject to change)
Kathy Cortes introduced this year's Women's Scholarship winner, who shared her bio with us. In honor of the 100th anniversary of the passing of the 19th Amendment to the Constitution, we played a Famous Women's Trivia Activity based on the game "Two Truths and a Lie". A screen was shared with information on the winners of our High School School Awards.  Thanks to Terri Hicks for Chairing this program. A short business meeting followed.
---
Our speaker was Barbara McMorrow, the former mayor of Freehold Township. She discussed "The Role of Women in Politics (non-partisan)". A short business meeting followed.
---
NOVEMBER 12, 2020:

 "AAUW and YOU: Let's Connect" (led by Marilyn Gonyo and Susan Buccellato)

(See Pictures)
---
---
JANUARY 14, 2021:  "Analyzing Signatures of Presidents" (Terry Antoniewicz, Handwriting Expert) – (see pictures) 
---
FEBRUARY 11, 2021: "Freedom Lessons" – A novel about teaching in Louisiana (Author Talk – Eileen Sanchez).
MARCH 16, 2021: Replaced by Inter-Branch Meeting (Hosted by Northern Ocean County Branch) – Meeting Cancelled due to Speaker availability!
APRIL 8, 2021: "Grounded Good Wife-Suffragettes in Corselettes" (Talk and demonstration) – Great Presentation!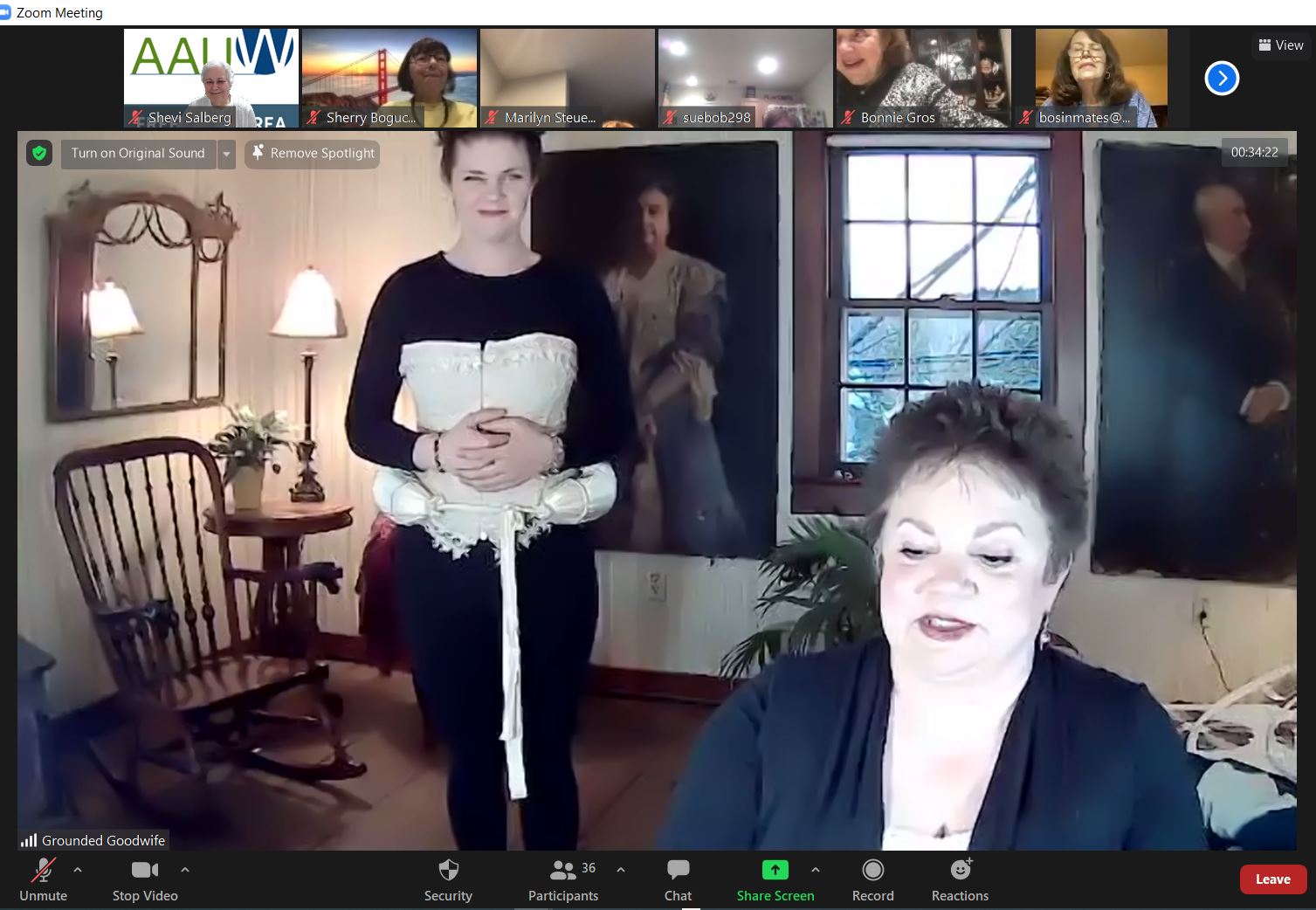 MAY 13, 2021: Awarding of the Outstanding High School Students' Awards (Rose Fishkin Scholarships) – See Video
---
Meetings at Other Venues
***(TBD)***
---
Join our Branch at one of our "Public Events" (such as at a Branch Meeting) and save on first year dues.

Save on National & State Dues when you join at a public event
 Applications will be available at our meetings.
2018-2019 – National + State + Branch dues are $80 ($59.00 National, $10.00 State, $11.00 Branch) when you join any other time.
Dues are collected in May and June of each year for the next fiscal year (July to June)
See our Membership Page for more information on joining our Branch
---
---
For Members (Only)  [Password Required]:

Please see the last page of the Newsletter for updates to the current Program Schedule,
See the Trips & Treks (Cultural Affairs) Page for information on upcoming Trips.
Look out for our Google Group emails, for timely updates.