(Dates, Times & Program – Subject to Change)
2023 to 2024
Members Only:
Google Calendar (Members Only)
Some meetings are held on Zoom
Only vaccinated individuals are invited to attend our in-person meetings. Arrangements can be made to attend virtually, for unvaccinated individuals.
(Some meetings, or portions of them, are recorded, and are available to be viewed for one month after the meeting)
---
Join us at our
Branch Meetings
(2023-2024)
Visitors welcome!
(email the Branch for more information!)
(Dates, Meeting times, and Programs – Subject to change)
Meetings will be held at Crossroads Building at St Peters Church,
 33 Throckmorton St, Freehold 07728
unless otherwise noted
Thursday, September 14, 2023 (1:30 PM) – Joseph Hadden, Director of the Monmouth County Division of Consumer Affairs, presented "Protecting Yourself from Scams."  The various on-line and telephone scams that have come to the attention of his agency will be discussed, as well as those steps we can take to protect ourselves from them.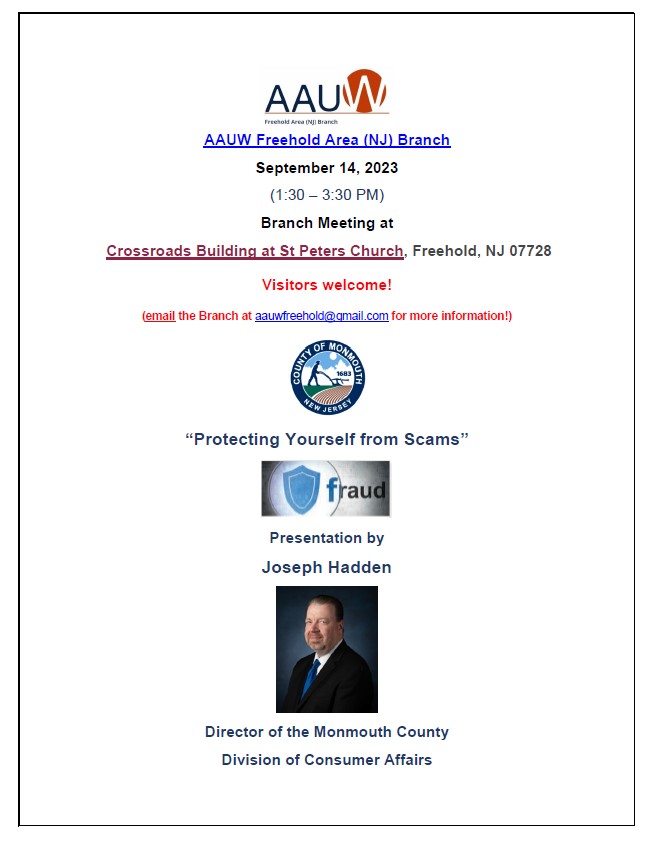 Thursday, October 12, 2023 (1:00 pm) – Eleni Glykis, Director of the Red Bank Library will present, "Banning Books, Silences Stories!" —a discussion of how banning books silences people's voices.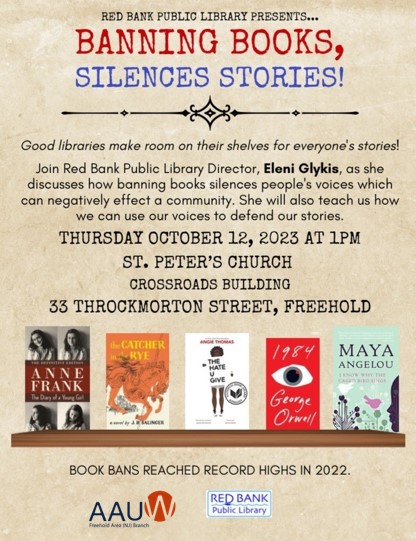 Thursday, November 9, 2023 (1:00 PM) – Eileen Kean, Esq., President of the Women's Political Caucus of New Jersey, will present, "The Outcome of the November 7th Election for Women Candidates." The Women's Political Caucus is a multi-partisan organization dedicated to increasing both women's participation in the political process, and the number of women in elected and appointed office, protecting reproductive freedom, and creating a women's political power base to achieve equality for all women.
December 2023 (Replaced by Holiday Celebration Luncheon)
Thursday, January 11, 2024 – on Zoom
Tuesday, February 13, 2024 (7:30 PM) – on Zoom) – Program honoring Black History Month, sponsored by AAUW NJ,  " Madam  C. J. Walker: Her Story and Her Legacy."
March, 2024  (Replaced by Inter-Branch Meeting) 
Thursday, April 11, 2024 – (Games) – TBD
Thursday, May 9, 2024 (7 PM) – Outstanding High School Students' Awards
June, 2024 (Replaced by Recognition Luncheon)
---
Board Meetings

(2023-2024)
(All Members invited to attend)
Thursday, August 10, 2023 – (7:00 PM) – On Zoom
Thursday, November 16, 2023 – (1:00 PM)
---
Meetings at Other Venues
2023 – 2024
December, 2023 (Holiday Celebration Luncheon) 
March, 2024 (Inter-Branch Meeting) – Hosted by Northern Monmouth Branch
June, 2024 (Recognition Luncheon) 
---
Become a member of our Branch at one of our "Public Events" (such as at a Branch Meeting) and save on first year dues.

Save on National & State Dues when you join at a public event
Dues are collected in May and June of each year for the next fiscal year (July to June)
See our Membership Page for more information on joining our Branch
---
Freehold Branch Contacts
For general inquiries, please contact us via email!
Someone from our Branch will reply to you.
---
---
For Members (Only)  [Password Required]:

Please see the last page of the Newsletter for updates to the current Program Schedule,
See the Trips & Treks (Cultural Affairs) Page for information on upcoming Trips.
Look out for our Google Group emails, for timely updates.