Freehold AAUW Programs (2018-2019)
Branch Meetings

 "Chat and Snack" before each meeting at 7 PM. 
Meetings start 7:30 PM (unless otherwise noted).
Doors are locked at 7:15 PM!
(Call Julie W. at 732-367-6035, if you arrive late.)
(across from Walmart in Freehold)
in the Media Center
Please note that, until further notice, all of our branch meetings will be at the West Freehold Elementary School.   Meetings start at 7:30 PM, unless otherwise indicated. "Chat & Snack" precedes the meeting at 7 PM.
Branch Meeting Dates
SEPTEMBER 13, 2018 Branch Meeting  7:30 PM    Program: Awarding of the Lew Williams and Leila Sulkes Scholarships; Presentation by Emma Dangler, the student our Branch sponsored to attend the AAUW National Conference for College Women Student Leaders (NCCWSL) (May 29 – June 1, 2019 at May 29–JUNE 1, 2019 at the University of Maryland, College Park.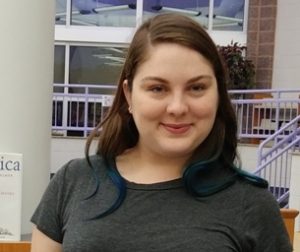 Emma received as Associates in Science from Brookdale Community College.  She will be attending Stockton University in the spring of 2019 as a junior, environmental science major. Her ultimate goal is to work for the EPA in wildlife and forest conservation.
OCTOBER 11, 2018 Branch Meeting  7:30 PM   Program: Immigration in NJ                     (Professor Carlos Decena – Rutgers University)
NOVEMBER 15, 2018 Branch Meeting  7:30 PM Meeting was cancelled due to weather conditions!  Program: AAUW Member Sue Richman (Volunteering  in Guatemala and Peru)
DECEMBER 2018  Replaced by Holiday Luncheon at Nonna's (December 13)
JANUARY 17, 2019  Branch Meeting 7:30 PM  Program:  Jim Benedict – Open Door
FEBRUARY 2017 Replaced by Chair Yoga with Barbara Sager (at Manalapan Community Center) (February 21)
MARCH 2019  Replaced by Inter-Branch Meeting (March 21)
APRIL 11, 2019   Branch Meeting 7:30 PM  Program:  "Keep This, Toss That" presented by Jamie Novak.
Are you drowning in too much stuff?   Join us as presenter Jamie Novak gives us her humorous take on how to declutter, as she instructs us on how to "Keep This, Toss That."
MAY 9, 2019   Awarding of the Outstanding High  School Students' Awards (Rose
Fishkin Scholarships) 
Meetings at Other Venues
OCTOBER 20, 2018  AAUW NJ Fall Focus Meeting at Brookdale Community College
DECEMBER 13, 2018   Holiday Luncheon at Nonna's  – See trips and treks (members only) page for more information
FEBRUARY 21, 2017  Chair Yoga with Barbara Sager (at Manalapan Community Center) (Replaces Branch Meeting)
MARCH 21, 2019 Inter-Branch with Central NJ Districts (Monmouth County Historical Association presenting historical fashion show) (at Manalapan Community Center)
APRIL 7-8, 2019 AAUW NJ Annual Meeting at Resorts Hotel and Casino Atlantic City
Jun 13, 2019 Recognition Dinner
June 19 – 22, 2019  – Book Sale (First United Methodist Church 91 West Main St, Freehold)
July 10, 2019 – Bus trip to Tarrytown (Lyndhurst Mansion and Sleepy Hollow)
Aug 7, 2019 – AAUW Day on LBI
2018-2019 Programs (Archive)