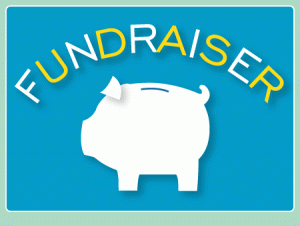 Our fundraising activities provide us with the means to carry out, through our own Branch scholarships and our donations to National AAUW's Educational Foundation and Legal Advocacy Fund, the main goal of AAUW: helping women and girls to enhance their lives through education.

---
AUUW Book Sale
We are now collecting books for our annual book sale which will take place on:
 June 19-22, 2019
at the First United Methodist Church
91 West Main Street, Freehold NJ 07728
For those of you who have been our long-time donators, we have changed our collection process. We will no longer be accepting books at Freehold Savings Bank. Therefore, both our collection process and the types of books accepted have changed.
All donations must be made by appointment only by calling 732-431-2297 or via email at aauwfreehold@gmail.com to arrange for a drop-off time.  You can also leave a message on our Facebook page https://www.facebook.com/BooksFreeholdNJ/. If you have a very large donation and need some assistance getting the books to us, please let us know.
We accept books, audiobooks on CD, CD's and DVDs.
Books must be clean with bindings intact.
We will NOT accept the following (please note this has changed from previous years):
Books that are musty, dirty, moldy, torn, missing pages, contain underlining
Reference sets (e.g. encyclopedias)
Magazines
Textbooks
Religion, philosophy,psychology, reference, business, cookbook sets, cooking with wine, cookbook annuals, home decorating or repair, text books, encyclopedias or Readers Digest
Travel books/guides more than 5 years old
VHS tapes or books on cassettes
We will be accepting donations for our annual June Book Sale until Friday, May 17th.
The sale, which takes place each June is our major fundraiser which enables the AAUW Freehold Area (NJ) Branch to offer awards to the highest ranking female high school seniors within the six Freehold Regional High Schools and scholarships for women over the age of 25 returning to college to pursue their undergraduate or graduate degrees.
Proceeds go toward educational opportunities for women in the Freehold area.
Thanks to folks that donated books for our book sale, and to our AAUW Freehold Area Branch members and other volunteers!
Branch members:  Book Sort has now resumed. Please visit the Book Sale (Members Only) Webpage, for information about Book Sorting. 
For inquiries, please contact us via email!
---
2018 Book Sale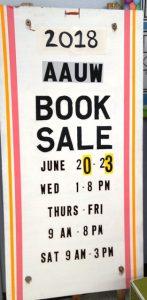 June 20 – 23, 2018
Our 45th Year!
91 West Main St, Freehold NJ 07728
---
2017 Book Sale
June 21 – 24, 2017
at First United Methodist Church
91 West Main St, Freehold NJ 07728
2016 Book Sale
 2015 Book Sale
Kyle Hart and volunteers from Troop 18 and High Tech High School at his Eagle Scout Fundraiser. They helped move the…
---
Members (Only) – Password Required: Please see our Members Only pages for:
Fundraising Contacts (Members Only)
Prior Fundraisers (Members Only)