Award Recipients
AAUW Freehold Branch Scholarships

---
AAUW-Lew Williams & Joan Odud Scholarship
(Formerly the Lew Williams & Leila Sulkes Scholarship)
The 2023-2024 Scholarship
BIO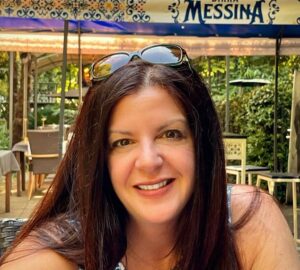 Maria Ciaravino is excited to accept the Lew Williams and Joan Odud scholarship for 2023-2024 as she pursues her doctorate in literature and writing from Drew University. Maria has been teaching English at Matawan Regional High School for 19 years and was named teacher of the year in 2021. She believes that in order to create lifelong readers, students must feel represented and connected to the literature they read which is why Maria is committed to bringing her students literature that represents their diversity and has worked tirelessly to add previously marginalized voices to the district curriculum. As the daughter of immigrants, Maria has overcome many obstacles in her quest for education and hopes her accomplishments will continue to inspire her students to believe in themselves. When not teaching or attending classes, Maria enjoys spending time with her husband and two stepdaughters whose support has been integral in her educational journey.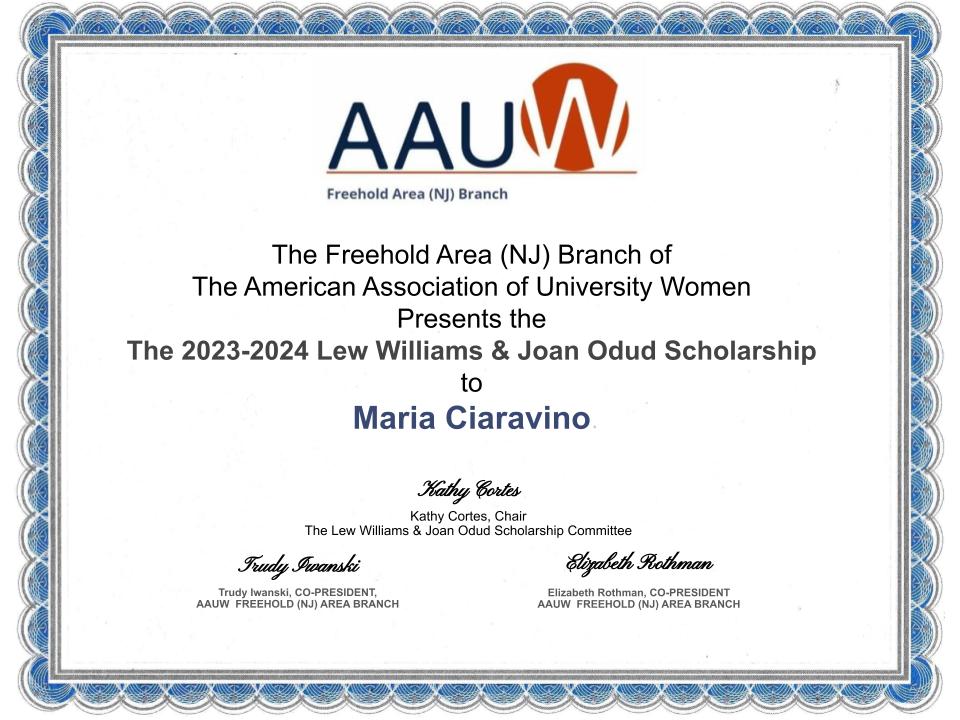 Each year, Applications are accepted from January – July for the following academic school year.  The deadline for applying for scholarships is July 31 each year.
See the Freehold Area Branch Scholarships Page for Scholarship Applicant information and how to apply for these scholarships.
---
SPRING 2023
The winner is chosen by the financial aid office at Brookdale Community College (BCC) and the $1000 scholarship is awarded annually.
2023
Victoria Duminski


---
2023 AWARDS
 (AAUW-Rose Fishkin Memorial Award for Academic Excellence)
were awarded at our May Branch Meeting
on May 11, 2023 – 7 PM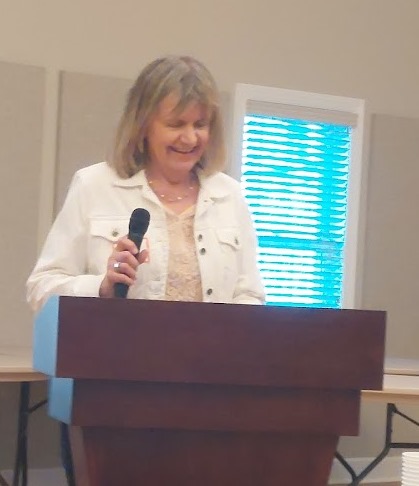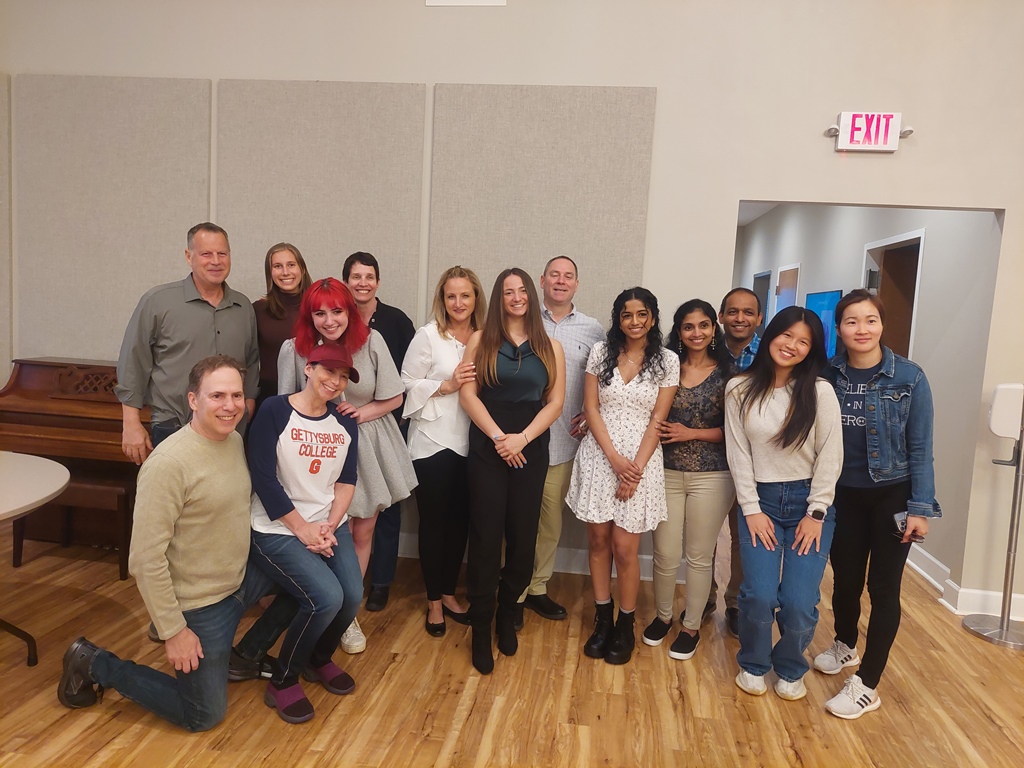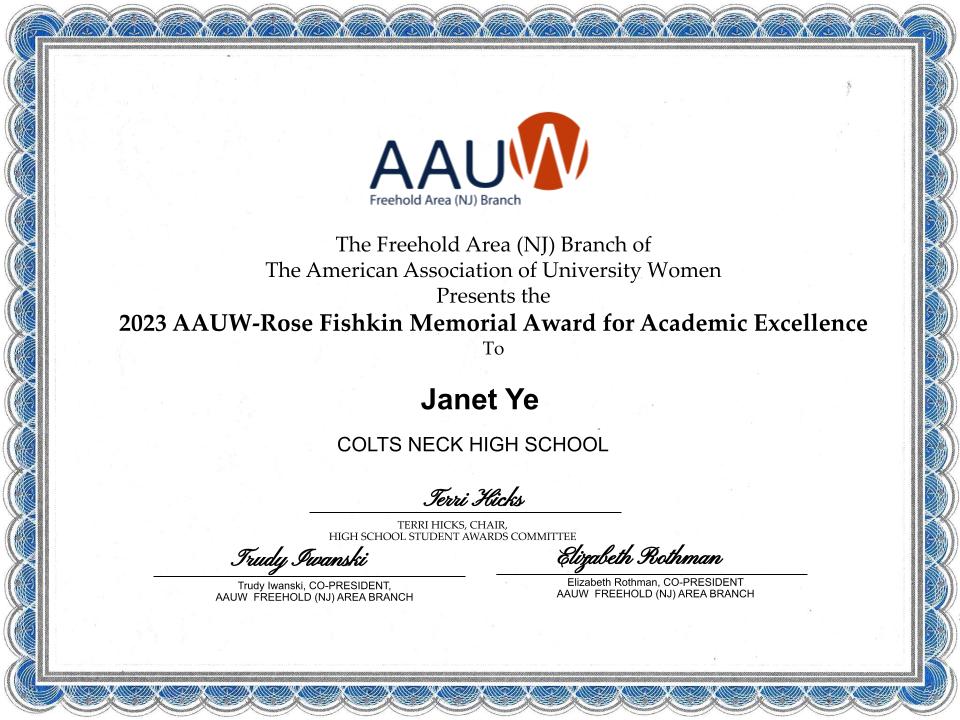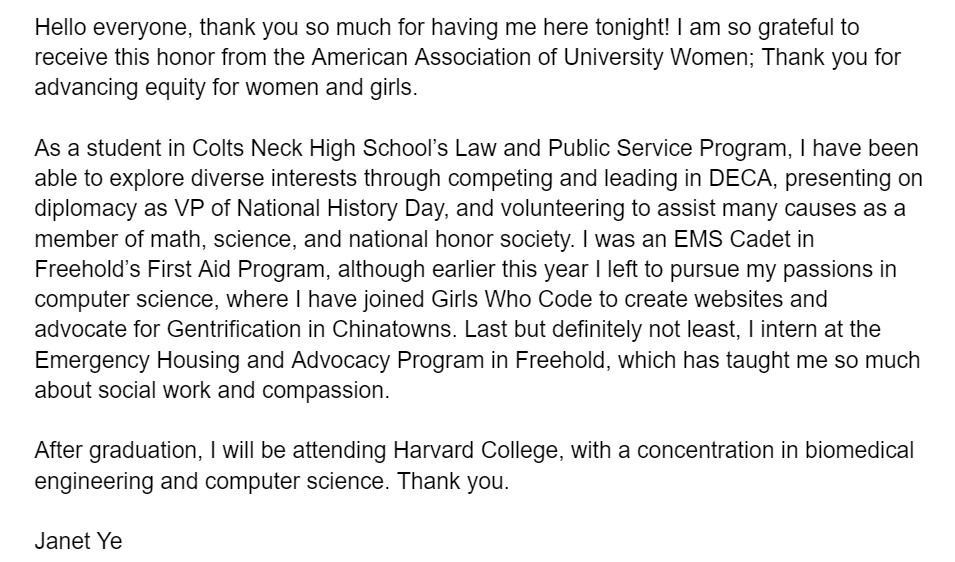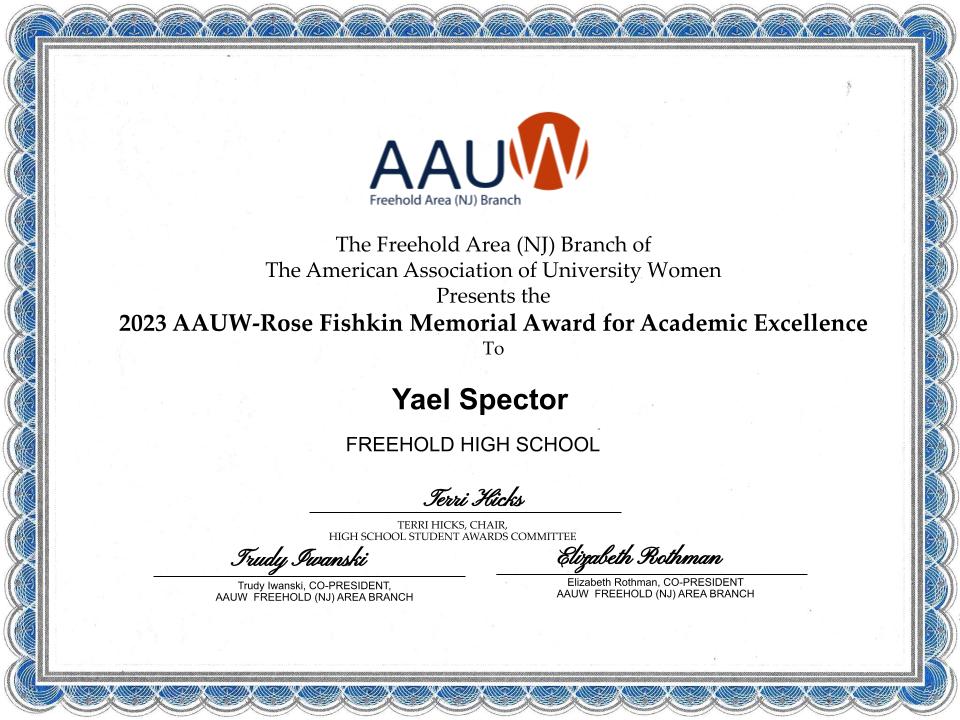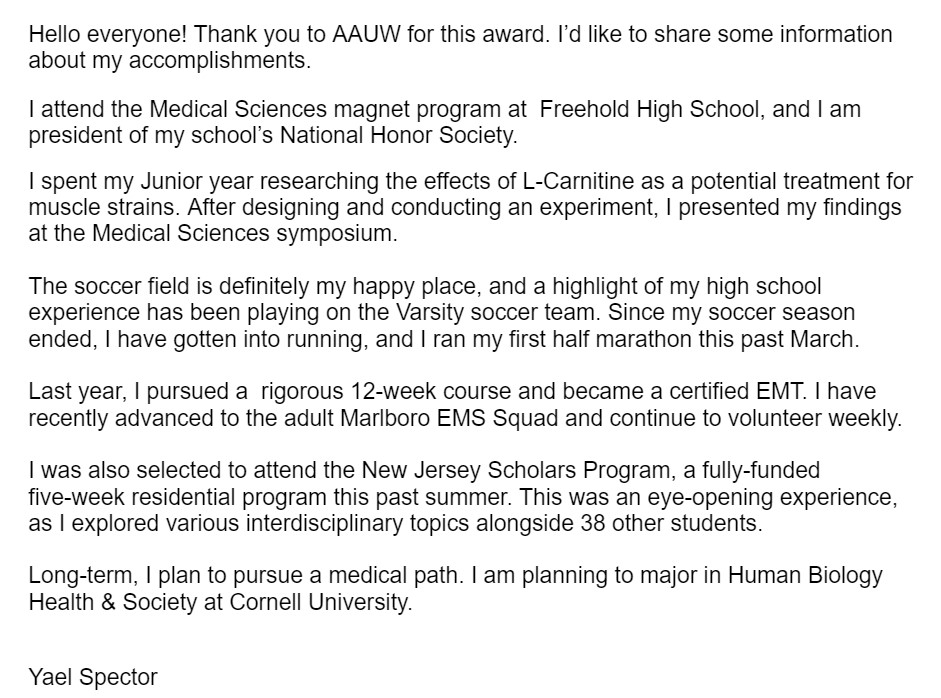 Freehold Township HS:  Camryn Bartone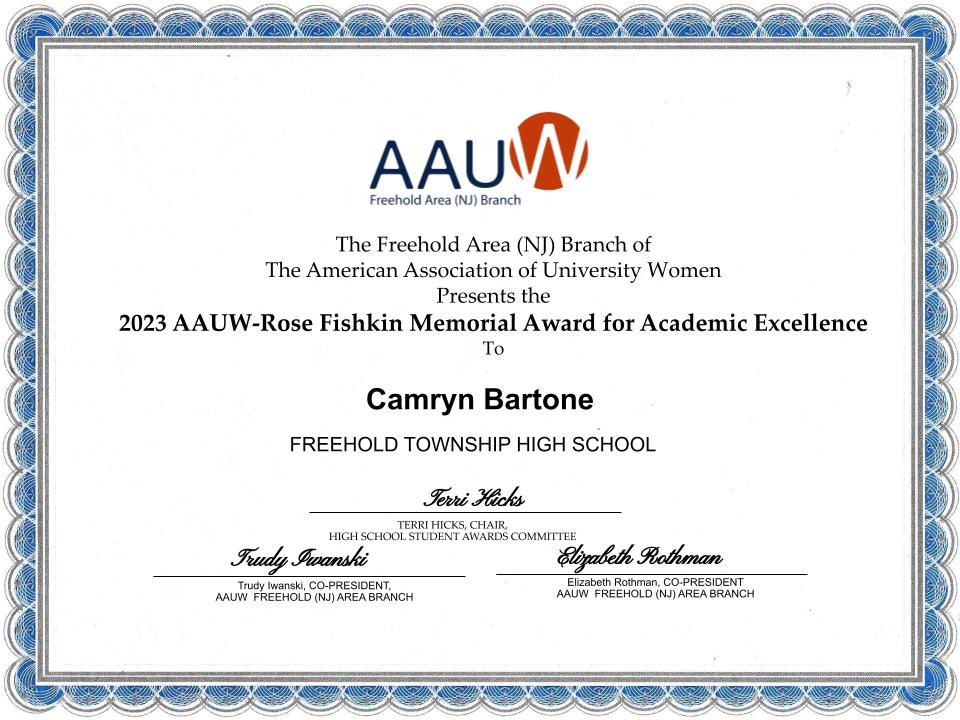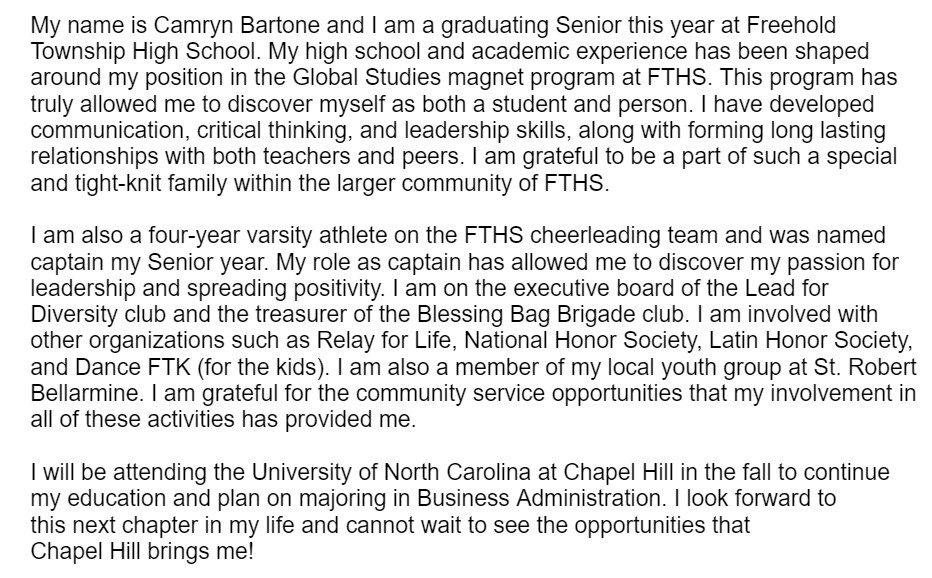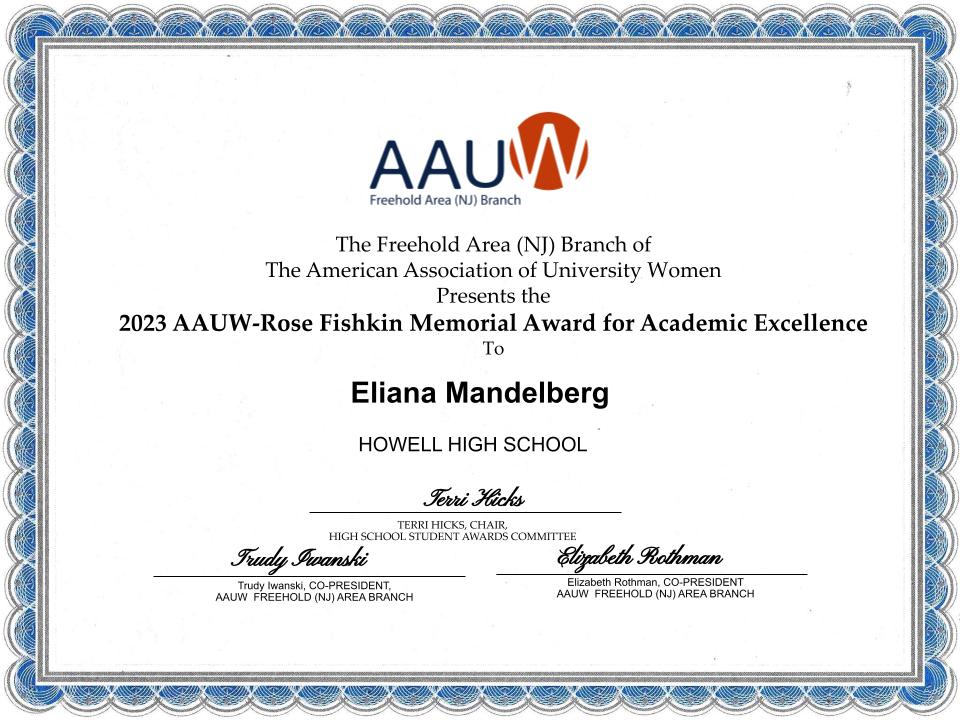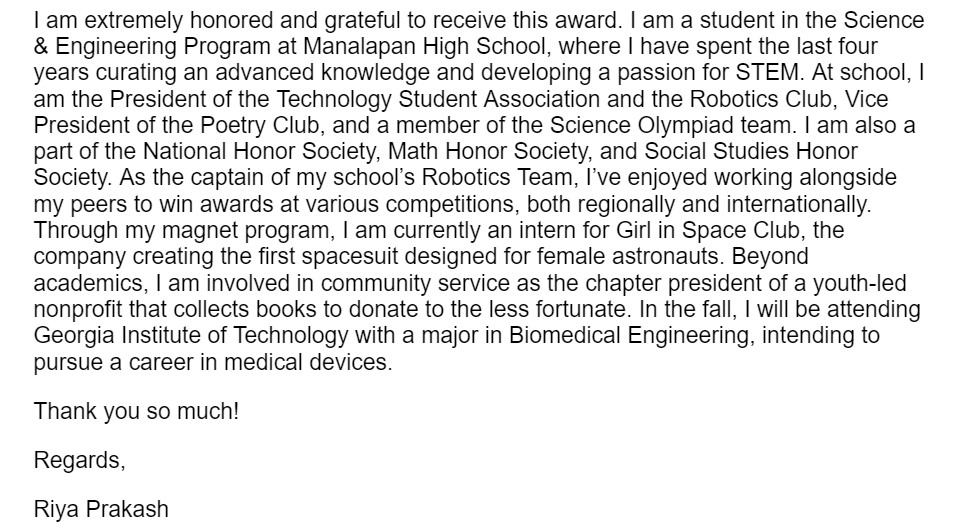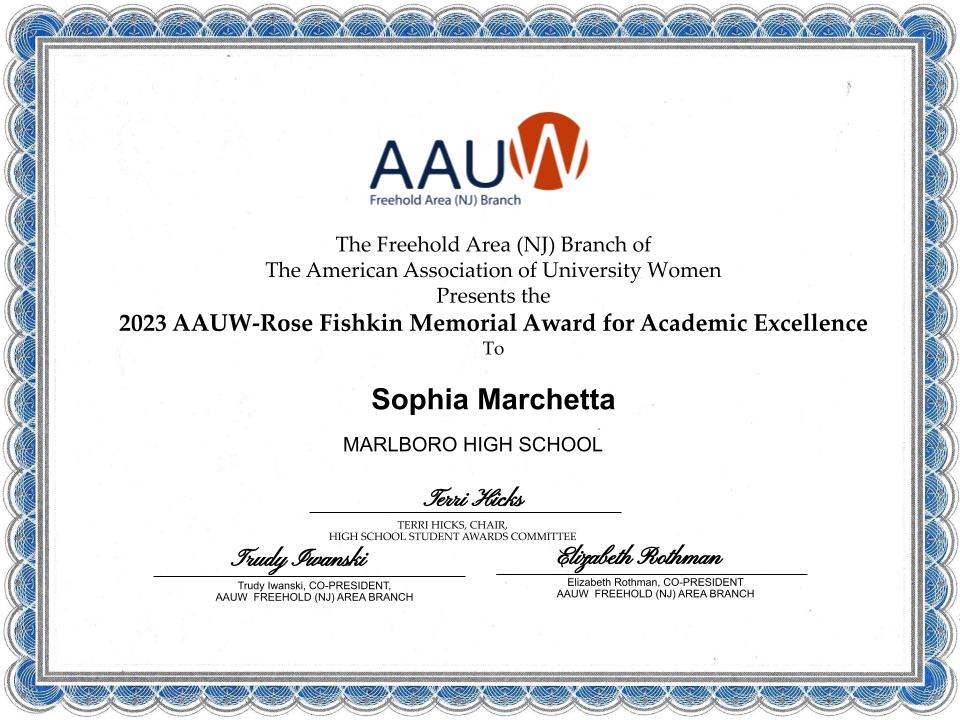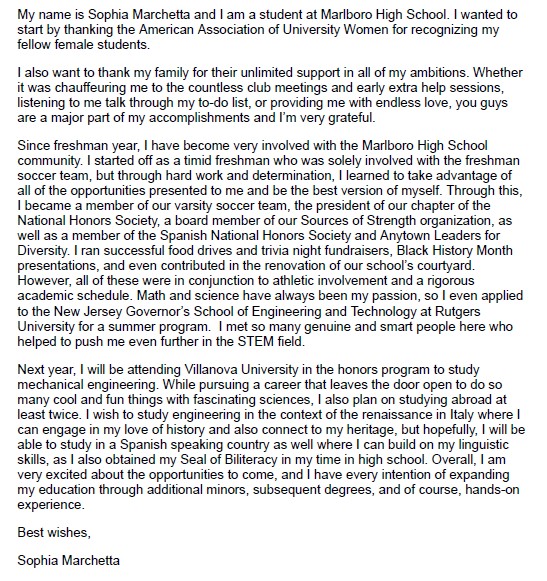 ---
The Betty Hurlbert Scholarship
Betty Hulbert was a member of the AAUW Freehold Area Branch for many years.  The Betty Hurlbert Scholarship was established as designated in her will, with the amount of the scholarship to be $1000/per year for 10 years.  The scholarship began in 2021.  It is stipulated that the recipient be a Freehold Township resident attending a Freehold Regional District High School in a STEM Program. The recipient is selected by a Freehold Regional District High School administrator responsible for scholarship programs.  The disbursement of funds is administered by the AAUW Freehold Area Branch.
2003 Scholarship Awardee
Melna Abraham
Freehold High School
Dear Betty Hurlbert Scholarship Committee,
I would like to thank you for choosing me to receive the Betty Hurlbert Scholarship. Currently, I am finishing up my senior year at Freehold Boro in the MedSci program.
I will be attending NJIT in the fall and your generous gift will provide me with much appreciated support as I continue my studies in the Pre-Health program.
Sincerely,
Melna Abraham
---
for more information about these scholarships
---
---