(Formerly the Lew Williams & Leila Sulkes Scholarship)
(2021 – 2022 SCHOLARSHIP)
The Application Period for the
Lew Williams & Joan Odud Scholarship
for the 

2021-2022 Academic Year

has ended.
Each year, Applications are accepted from January – July for the following academic school year.  The deadline for applying for scholarships is July 31 each year.
See the Freehold Area Branch Scholarships Page for Scholarship Applicant information and how to apply for these scholarships.
---
(2021 AWARDS)
 (The Rose Fishkin Scholarship Awards)
awarded at our May Branch Meeting on Zoom
May 13, 2021 – 7 PM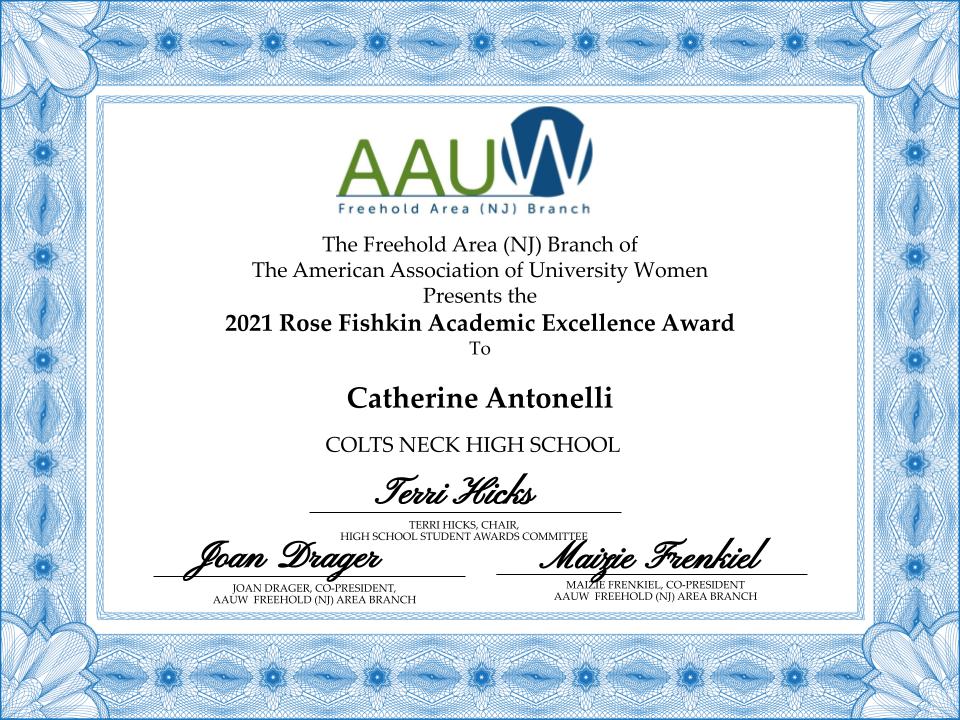 Catherine Antonelli expressed that she is deeply honored to have been selected as one of the recipients of the Rose Fishkin Academic Excellence Award.  Admitted into the Law and Public Service Learning Center at Colts Neck High School, Catherine Antonelli spent much of my high school career studying literature, history, and government — but not without venturing into other subjects, such as environmental science and psychology, on her my own volition. She considers herself a generalist who enjoys synthesizing a wide array of topics into a coherent whole (e.g. by assessing the environmental influences of colonialism as both a material and an ideological force). She plans to attend The University of Chicago in the fall, pursuing a double major in English and History.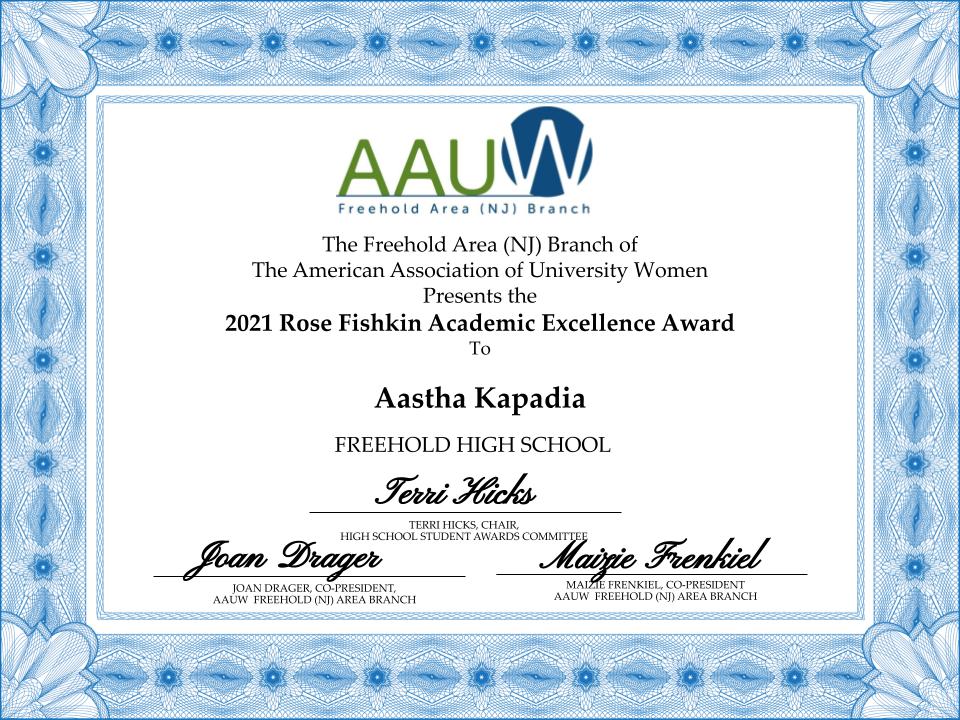 Aastha Kapadia thanked AAUW Freehold Area Branch for the opportunity to be Freehold High School's recipient of the Rose Fishkin award. Aastha's plans include attending Johns Hopkins University in Baltimore, Maryland in their Biomedical Engineering program on a premed track. She recently finished an initial EMT certification course and while at Hopkins, hopes to continue as an EMT. She also plans on going to medical school one day.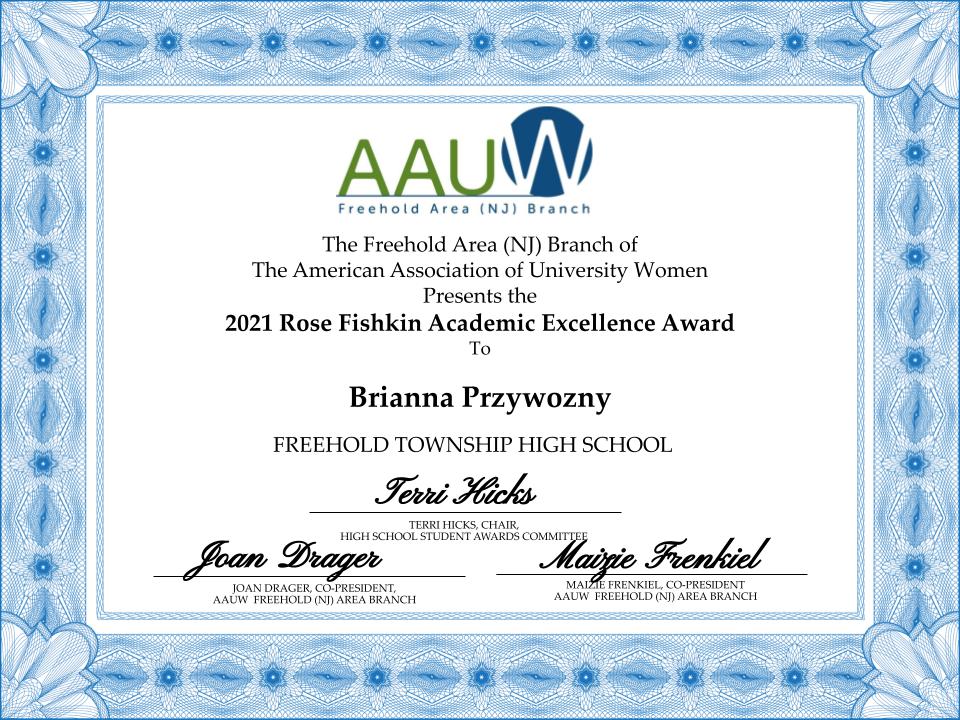 Brianna Przywozny is a senior at Freehold Township High School. She is in her school's International Baccalaureate Diploma Programme, which is a two-year collaborative program that provides a global context to the typical high school curriculum and prepares students for higher education. She has been on her school's track and field team for the entirety of her high school career and is involved in a variety of clubs, including Students Helping Honduras, for which she coordinated a clothing drive fundraiser, earlier this year.  She is in the National Honor Society, Spanish Honor Society, and Math Honor Society.  Because of her experience in classes such as IB Biology and IB Design Technology, she decided to pursue a major in biomedical engineering, and she will be studying at Boston University in the fall.

Morgan Burger thanked AAUW for this amazing opportunity and congratulated her fellow recipients.  Morgan attends Howell High School, where she is enrolled in the Scholar's Center for Humanities. In her free time, she enjoys staying active in her community. She is the National Honor Society President, the Student Council Treasurer, and the co-leader of a club called Relay For Life, which raises money for the American Cancer Society. She also play varsity tennis and lacrosse. Next year, she will be attending the University of Miami with the Presidential Scholarship. She plans to major in biochemistry on the pre-med track, with dreams of becoming a dermatologist and opening up her own practice one day.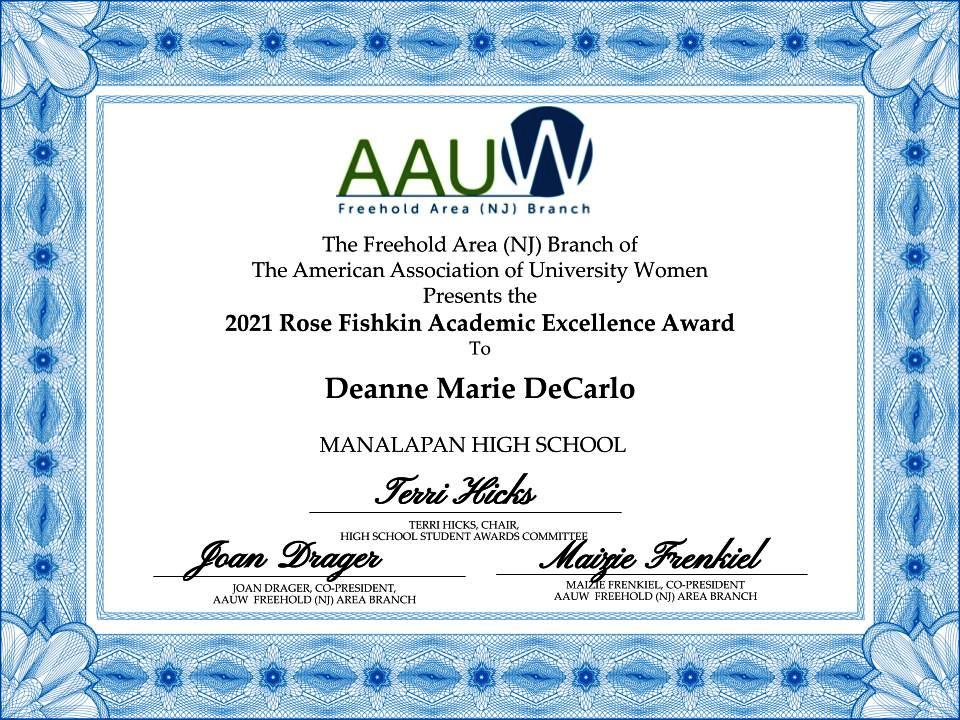 Deanne DeCarlo is extremely grateful for her high school experiences as they have molded her academic and personal interests and prepared her for the next four years in college.  She has been a member of Junior State of America since her freshman year where she has participated in political discourse with her peers and has helped organize meetings and fundraisers as a board member.  She has also been a member of Freethinkers Society, a philosophy club, for the past four years. In the beginning of her junior year, she collaborated with a few other students to establish a UNICEF chapter for Manalapan High School which raises funds for humanitarian aid.  She is also Vice President of Mu Alpha Theta (math honor society) and is a member of Rho Kappa (social studies honor society), Spanish Honor Society, and National Honor Society.  Her current academic plan is to attend law school. She has explored her interest in law over the past few summers as a student at JSA Summer School at Princeton University and as an intern for a real estate attorney. This fall, she will be attending Yale University on a pre-law track and possibly concentrating in mathematics with a minor in political science, economics, or philosophy.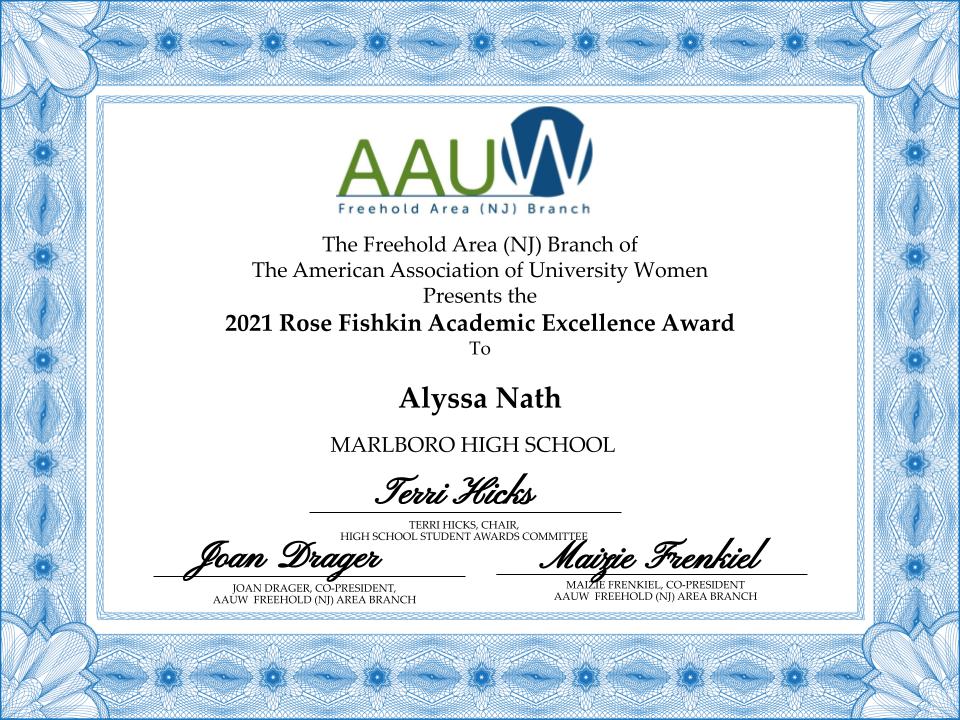 Alyssa Nath is honored to represent Marlboro High School as the recipient of the Rose Fishkin Academic Excellence Award. At Marlboro High School, she has been able to explore an array of my academic interests through the many different classes offered, as well as through the excellent clubs. Both have led her to her passion of pursuing a career in business with a specialization in consulting or social change entrepreneurship. This fall, she will be attending The Ross School of Business at the University of Michigan in Ann Arbor. She is thankful for all of the opportunities that Marlboro High School and the Freehold Regional High School District have provided her, and is excited for the opportunities to come.  She thanks the American Association of University Women for this great honor and for supporting the education of young women like herself.
---
Lew Williams & Joan Odud Scholarship
(Formerly the Lew Williams & Leila Sulkes Scholarship)
The 2020-2021 Scholarship Winner:
Alissa Perri of Marlboro, New Jersey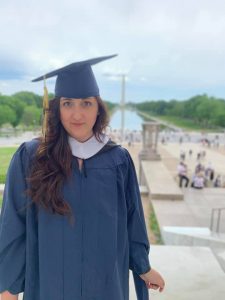 The Freehold AAUW Scholarship Committee presented the 2020-2021 Lew Williams and Joan Odud scholarship to Alissa Perri of Marlboro, New Jersey.
She is a graduate student in International Science and Technology at George Washington University's Elliott School of International Affairs.
Ali plans to enter the intelligence field to use her cyber skills for detecting network security challenges at nuclear facilities, identifying nuclear weapons development in foreign nations and preventing missiles from being launched.
She has volunteered for Clean Water Action as a Grass Roots Environmental Canvasser. Her Field Manager there praised her high impact research skills on campaigns for community outreach.
She currently works as a shift leader in a restaurant in Silver Springs, Maryland.
We all wish Ali tremendous success in her educational and career goals.
---
(2020-2021 SCHOLARSHIP)
So many have felt a strong connection to Leila and all she has done for AAUW Freehold Branch over the past 50 years.  The money collected for the Leila Sulkes Memorial Fund will be used for women's scholarships.  The first scholarship of $1000 will be for a Brookdale Community College (BCC) student.  If you  wish to donate to the Leila Sulkes Memorial Fund, send checks made out to AAUW to our Finance Officer.
We are pleased to announce the recipient of The Leila Sulkes Memorial Scholarship for the Fall 2020 semester at Brookdale Community College is Aleia Dean. Aleia is a sophomore at Brookdale and is enrolled in their nursing program. She is paying for her education entirely by herself so this scholarship is certainly appreciated.
---
The Betty Hurlbert Scholarship
The Betty Hurlbert Scholarship was established as designated in her will. It is stipulated that the recipient be a Freehold Township resident attending a Freehold Regional District High School in a STEM Program. The recipient is selected by a Freehold Regional District High School administrator responsible for scholarship programs.  Contact Terri Hicks for more information.
---
for more information about these scholarships
---
---