Award Recipients

---
Lew Williams & Joan Odud Scholarship
(Formerly the Lew Williams & Leila Sulkes Scholarship)
The 2022-2023 Scholarships
Two scholarships were awarded this year, to two women: Lori Bivona and Nicole Galante, both of Freehold, NJ. Lori is pursuing a bachelor's degree from Rutgers University School of Management and Labor Relations. Nicole is going for a Master's in Teaching Education Grades K-12 at Georgian Court University. Congratulations to them both!
BIOs
Lori Bivona is honored to be a recipient of the Lew Williams and Joan Odud scholarship. Lori will be attending Rutgers this Fall, pursuing a Bachelor's of Science in Labor and Employment Relations. She works for the Township of East Windsor as the Planning & Zoning Board Secretary, where she supports land use and development. Working in local government has given Lori the opportunity to study local land use law and help residents and developers navigate local ordinance and application hearings. Going back to school to complete her degree has been a lifetime goal and studying gender equality for women is a core component of her degree focus. Lori gratefully advances forward with this new challenge keeping the mission of the Freehold AAUW close at heart.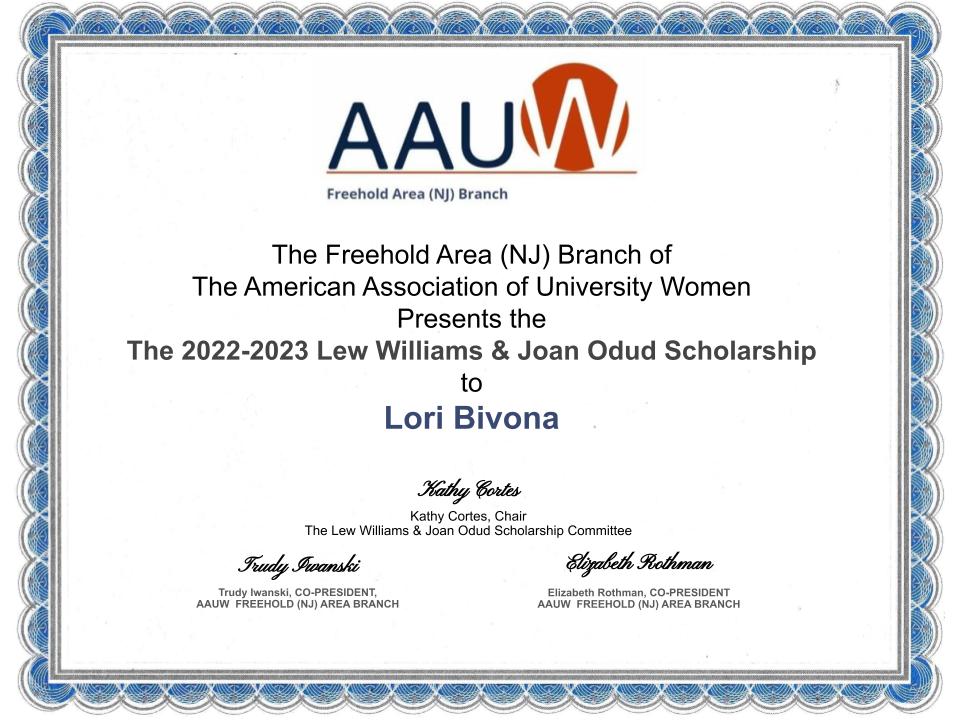 My name is Nicole Galante and I am a returning college student at Georgian Court University. In December of 2021 I graduated with my Bachelor's in English, and I am currently working on my Master's in Education. I am passionate about teaching and looking forward to a life-long journey of learning with all my future colleges and students. My goal is to teach students skills to help them achieve their passions and dreams. The skills I learned over the years helped me become a member of the National Society of Leadership and Success, a member of Phi Theta Kappa Honor Society, and a member of Kappa Delta Pi Honor Society. I value and practice Georgian Court University's mercy core values; respect, integrity, justice, compassion, and service. My happy place is at the beach, I love spending time with my family, and my favorite accessory to wear is a smile!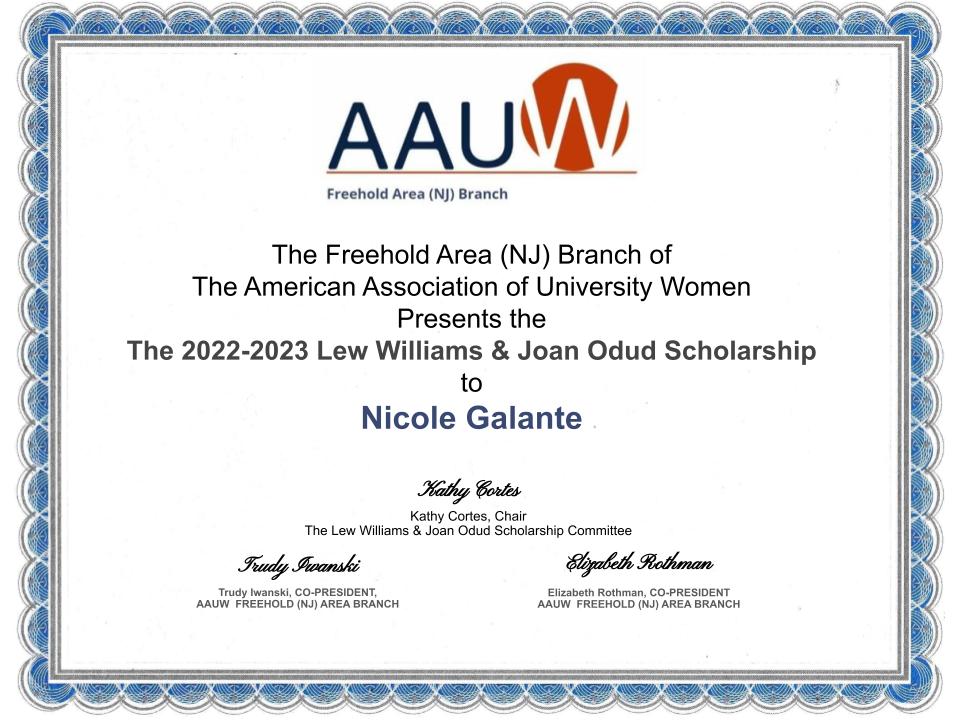 Each year, Applications are accepted from January – July for the following academic school year.  The deadline for applying for scholarships is July 31 each year.
See the Freehold Area Branch Scholarships Page for Scholarship Applicant information and how to apply for these scholarships.
---
---
SPRING 2022
The winner is chosen by the financial aid office at Brookdale Community College (BCC) and the $1000 scholarship is awarded annually.
AWARD RECIPIENT
Elise Miedwig
Elise, who is also paying for her education entirely by herself, is studying at Brookdale towards her plans of obtaining a degree in ecology to further a career with the National Park Service, or some other organization with a focus on caring for and preserving the natural world.

---
2022 AWARDS
 (The Rose Fishkin Scholarship Awards)
were awarded at our May Branch Meeting
on May 12, 2022 – 7 PM

---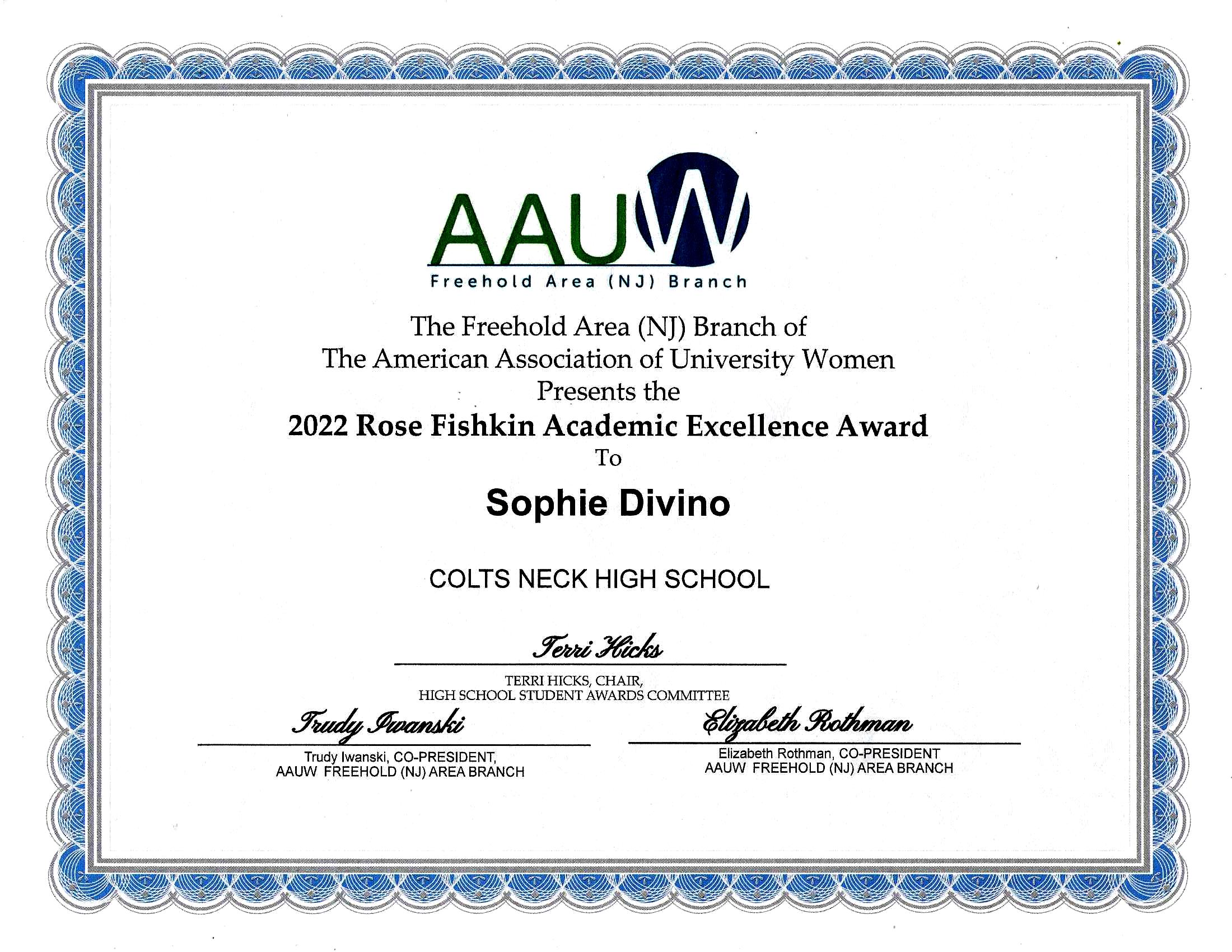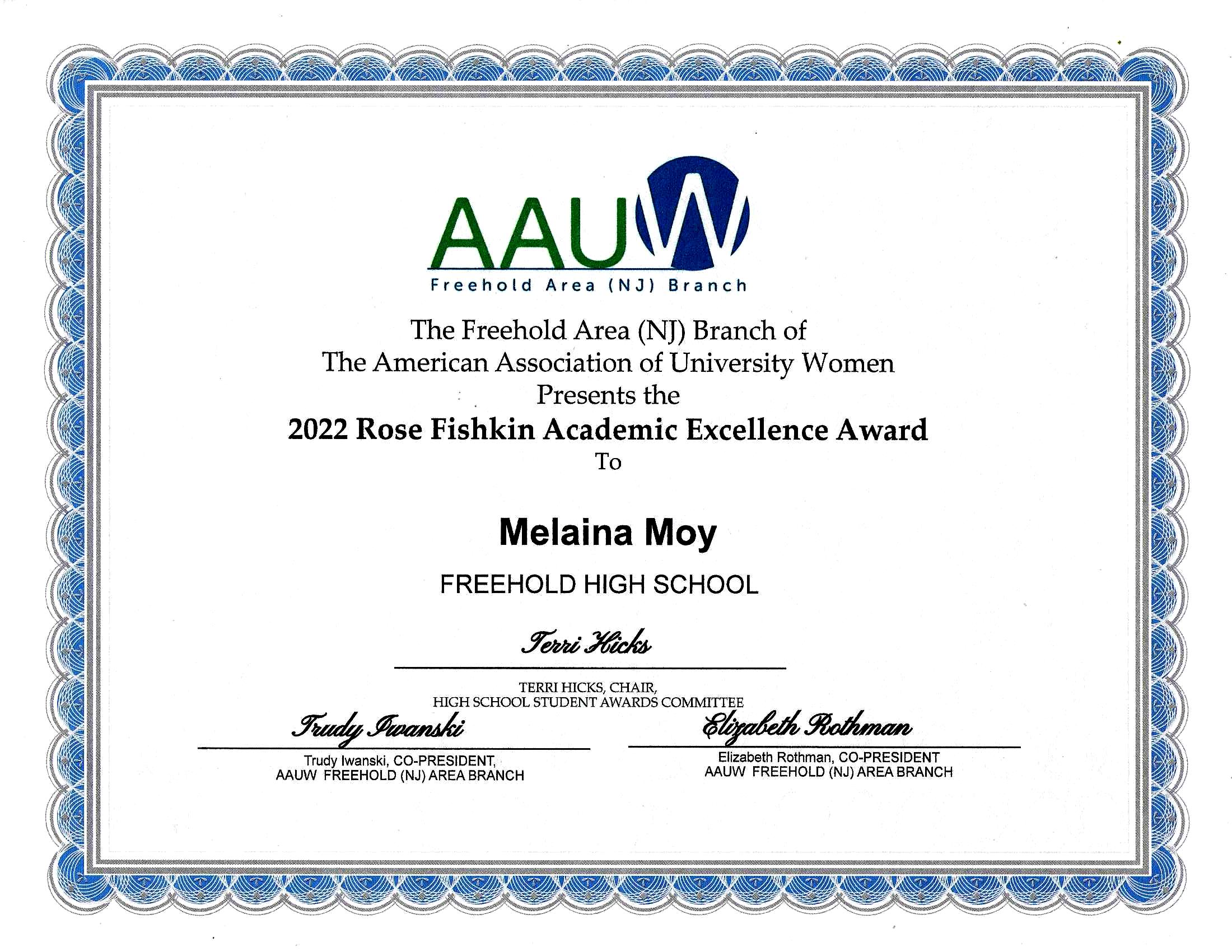 Melaina Moy (Freehold HS) is honored to be a recipient of the Rose Fishkin Award.  Melaina will be attending Barnard College of Columbia University in the fall, where she plans to major in economic and social history with a possible minor in political science. She hopes to combine her interests in economics, history, and politics to eventually pursue a career in either law or public policy. At Freehold High School, she is currently involved in the National Honor Society and the Spanish Honor Society, as well as clubs such as student council and science league. She is also passionate about the issue of gender-based violence and participates in initiatives to assist survivors of domestic abuse.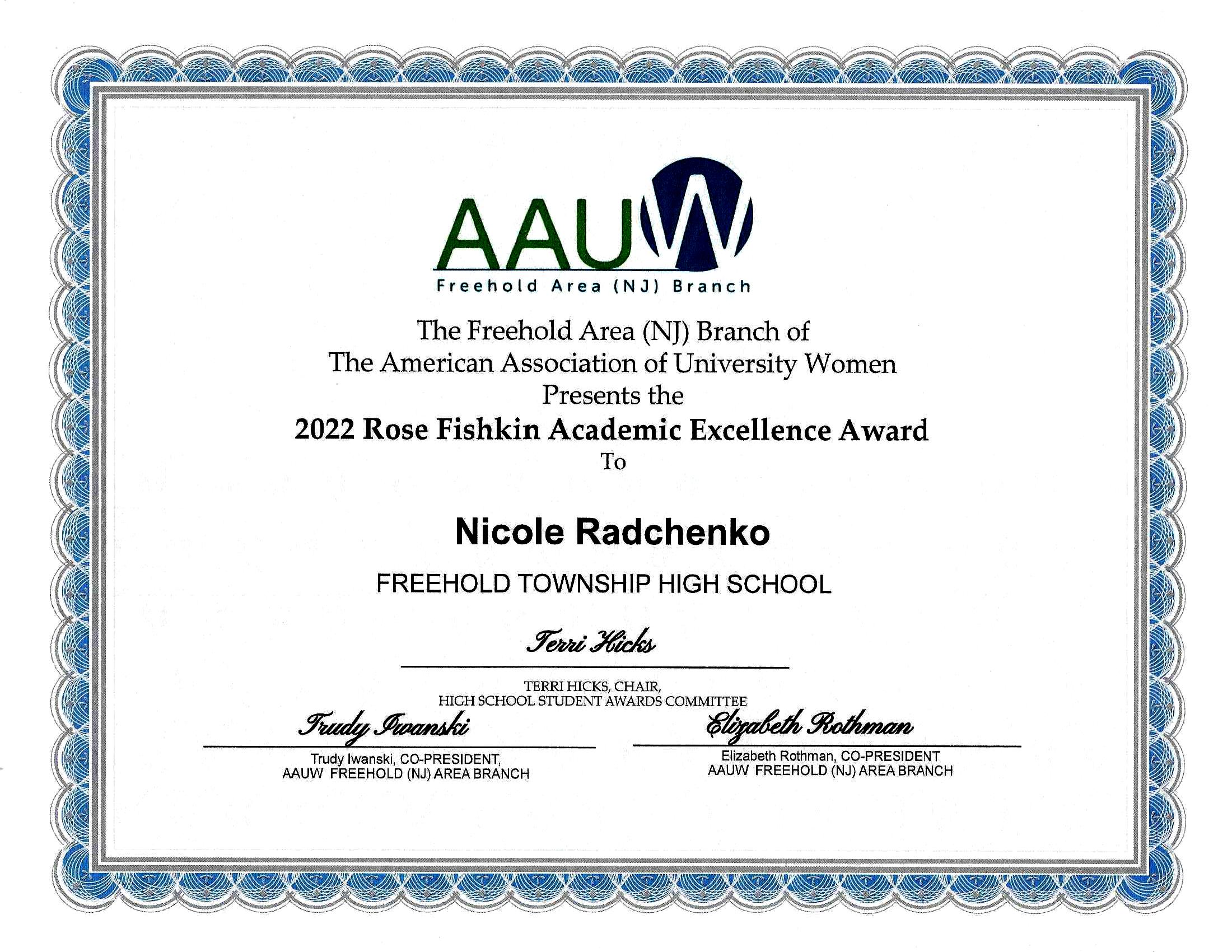 Nicole Radchenko (Freehold Township HS) thanks AAUW Freehold Branch for winning the Rose Fishkin Award! Nicole is an International Baccalaureate Diploma Programme candidate at Freehold Township High School. She has dedicated the last three years of her high school career to Forensics, competing on a local and national scale as the current President of their team. Her future plans are to attend Northwestern University on a full ride from Questbridge as a biological sciences major with a concentration in human health and disease on a pre-med track.
---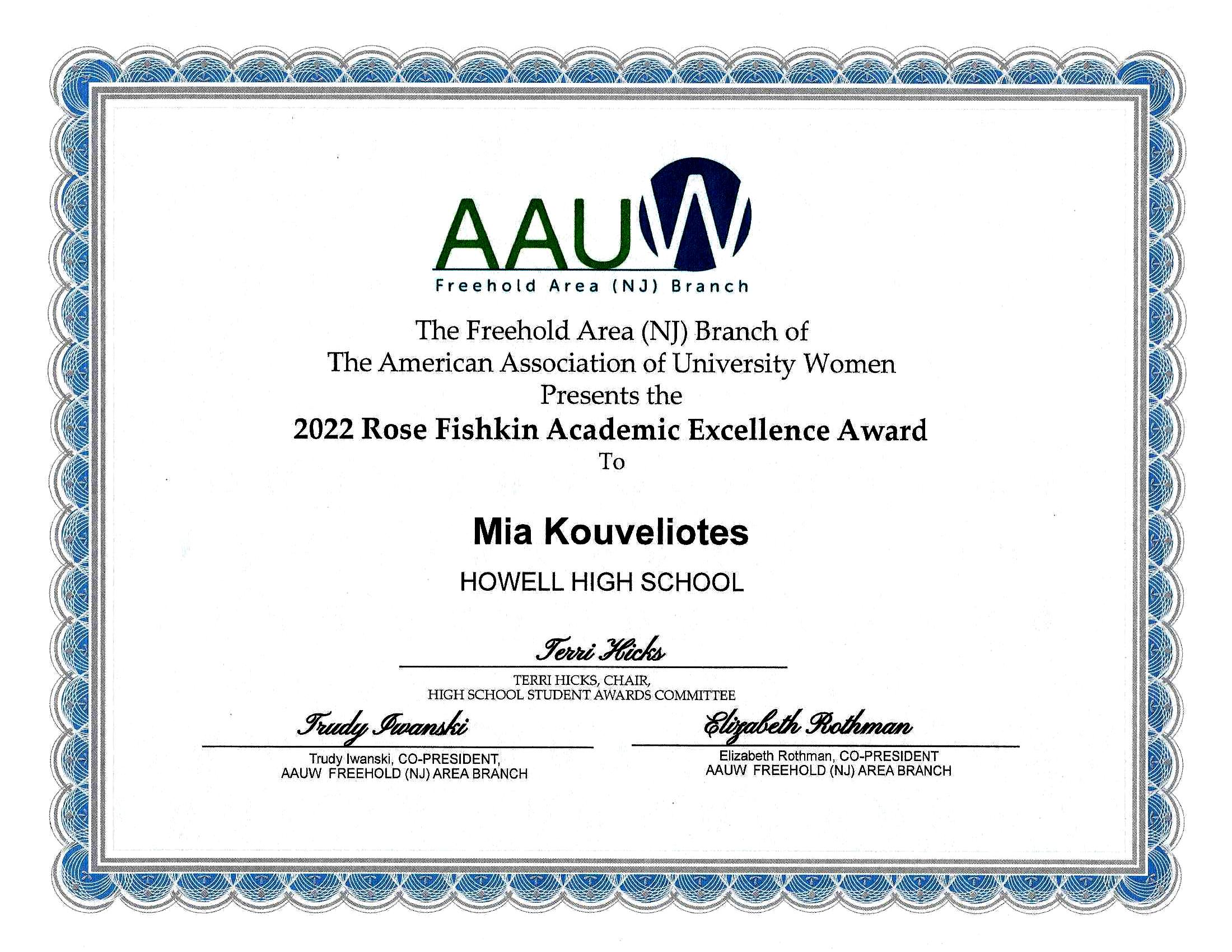 Mia Kouveliotes (Howell HS) is beyond honored and thankful to receive this award, and is very grateful that a program such as this exists to empower young women! Mia is graduating from the Scholars' Center for the Humanities at Howell High School, where she has spent the last four years delving into classic literature, history, philosophy, and culture. Outside of the classroom, Mia is passionate about writing, theater, community service, and mental health advocacy. She is on the Event Leadership Team of Howell Relay For Life, as well as regional and national volunteer teams for the American Cancer Society. She also serves as the Co-President of HHS JSA, Vice President of HHS DECA, Student Council Vice President, and is an intern for the Youth Mental Health Project, a non-profit dedicated to youth mental health education and support. Next year, She will be attending Washington University in St. Louis, majoring in Psychological & Brain Sciences and minoring in Medical Humanities!

---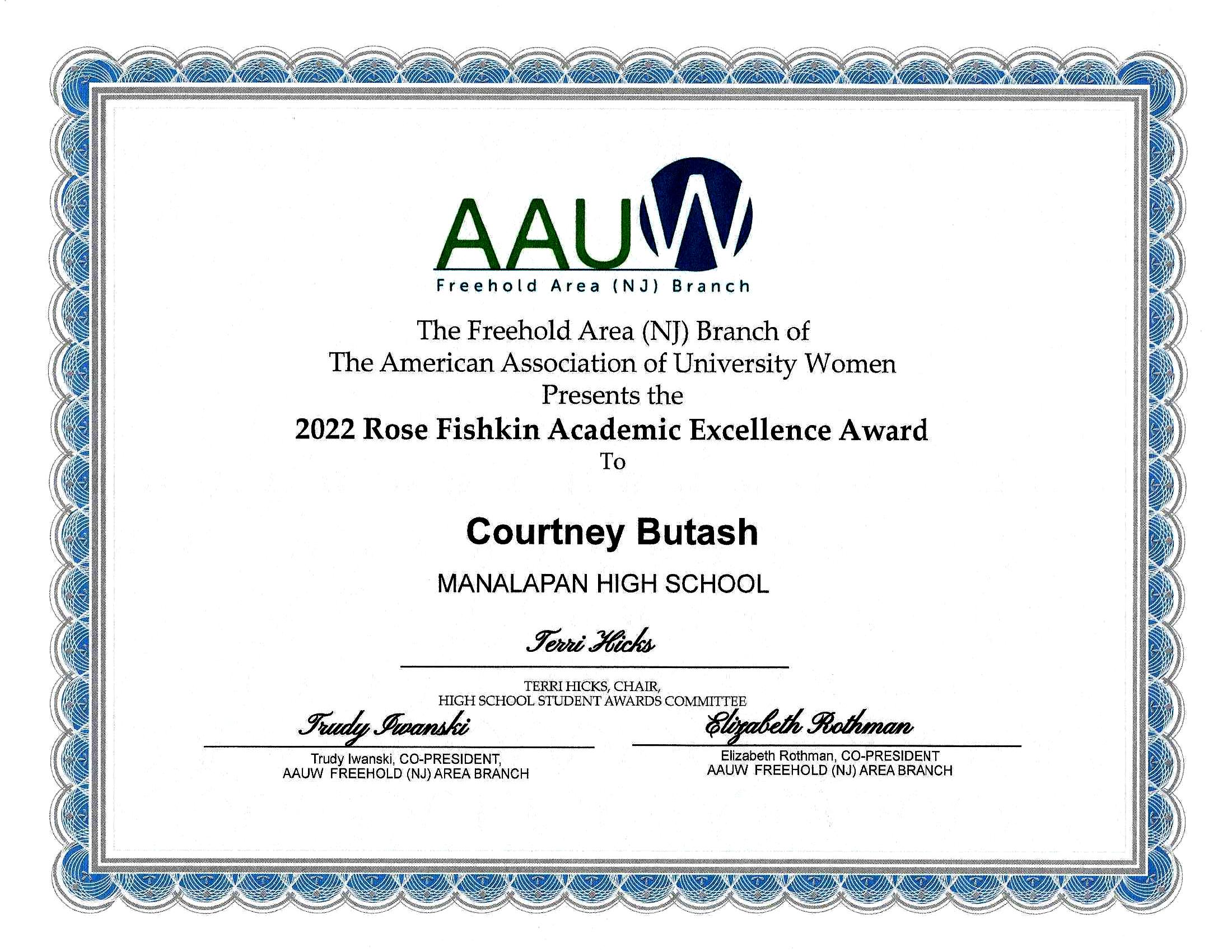 Courtney Butash (Manalapan HS) is honored to win such a prestigious award. As a student in the Freehold Regional High School District's Science and Engineering Magnet Program at Manalapan High School, Courtney Butash's academic journey has included many ups and downs. She entered high school thinking that she was going to crumble under the weight of rigorous classes and extracurricular activities. However, she took every challenge she was faced with freshman year in full stride, managing to maintain good grades while earning varsity letters in three sports, playing club soccer, and participating in multiple school-organized clubs. Her confidence carried her into success at the beginning of her sophomore year until school shut down due to COVID. After a tough junior year of hybrid learning and intermittent extracurriculars, senior year returned in full swing, allowing her to fully develop the best version of herself. As a senior, she hasn't let up in either her grades nor her extracurricular activities; She is a three-season varsity captain in soccer, basketball, and track & field, secretary of NHS, and a member of both Math Honor Society and Science Olympiad, all while continuing to pursue academic excellence in challenging classes. Throughout her entire high school career, she has also participated in community service by helping to organize and run an annual Thanksgiving Basket Food Drive and volunteering as an assistant basketball coach. She has appreciated every opportunity to not only contribute to my own success, but also contribute to my community. In the fall, she will be attending Duke University, intending on majoring in Biomedical Engineering, and she is incredibly excited to see where her work ethic and drive will carry her in the future.

---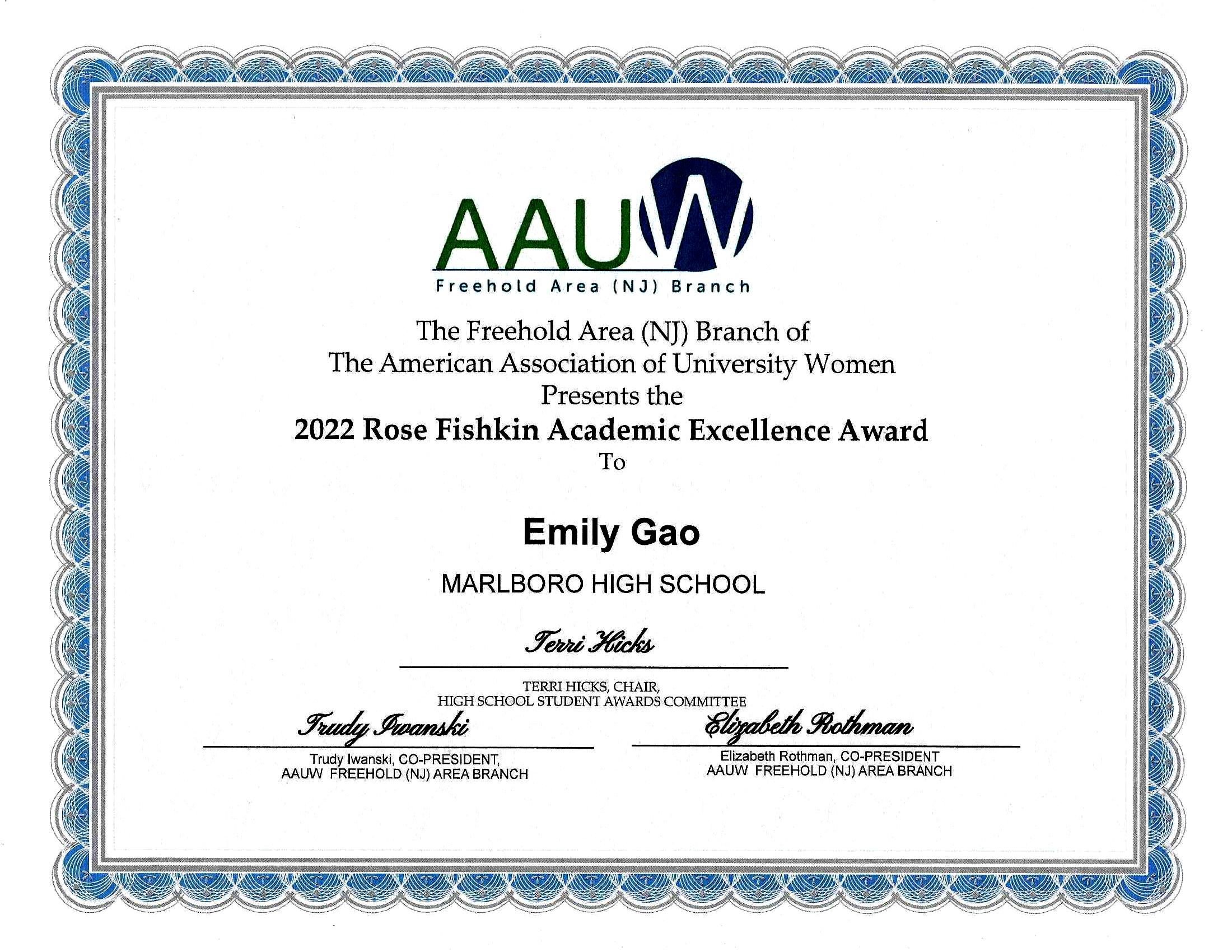 Emily Gao (Marlboro HS)  is so grateful to receive this award! As a graduating senior from Marlboro High School, Emily has taken a diverse set of challenging and engaging courses ranging from the humanities to science. To further explore her interest in STEM, Emily has conducted numerous research projects in areas like deep learning and biometrics, and has shared her findings at various presentations. Outside the classroom, Emily is part of Marlboro High School's Swimming and Golf Team, as well as president of the Technology and Student Association Club. She is also passionate about music and singing, taking part in multiple choirs and solo vocal events. Finally, Emily is actively involved in community service and volunteering, such as being an active cadet at the Morganville First Aid Squad. Next year, she will be attending Harvard University, studying computer science.
---
New
The Betty Hurlbert Scholarship
The Betty Hurlbert Scholarship was established as designated in her will. It is stipulated that the recipient be a Freehold Township resident attending a Freehold Regional District High School in a STEM Program. The recipient is selected by a Freehold Regional District High School administrator responsible for scholarship programs.  Contact Terri Hicks for more information.
---
for more information about these scholarships
---
---