The Lew Williams & Leila Sulkes Scholarships
Scholarships of $2000 for each academic year are awarded for women in undergraduate or graduate degree programs.
Application period for 2019-2020 School Year is now CLOSED!
Each year, Applications are accepted from January – July for the following academic school year.  The deadline for applying for scholarships is July 31, each year. Please read the following instructions carefully. Applications that do not meet the eligibility criteria below will not be reviewed by the AAUW Freehold Branch Scholarship Committee.
Scholarship Applicant Qualifications
AAUW 2019 Scholarship Information 
Women 25 years of age or older
Residents of Colts Neck, Englishtown, Farmingdale, Freehold Borough, Freehold Township, Howell, Manalapan, Marlboro, Monroe Township or Morganville
Enrolled in a bachelor's degree program having completed a minimum of 60 credits OR  enrolled in a graduate degree program having completed a minimum of six credits.  The school AND program MUST be accredited by a regional accrediting association.
Must have maintained a minimum GPA of  "B"
Will be enrolled in the school year for which the application is being made
Previous Lew Williams and Leila Sulkes Scholarship winners are not eligible to apply.
Award checks will be made out to the school  (Not to the award winner).
Send application requests to freeholdaauwscholarships@gmail.com 
A completed application, official transcript(s), and two letters of recommendation must be mailed in and postmarked by July 31 of the year for which applying. Send your completed application and transcript(s) to freeholdaauwscholarships@gmail.com as attachments.
Please request that references send their letters of recommendation directly to freeholdaauwscholarships@gmail.com
---
The Lew Williams & Leila Sulkes 2019-2020 Scholarship Awards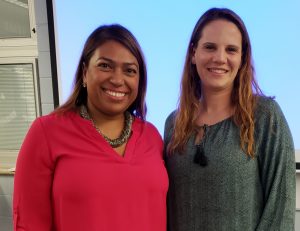 The Freehold Branch of the American Association of University Women (AAUW) recently presented the Lew Williams and Leila Sulkes scholarships to two local women.
Jamie Petrick of Marlboro, is pursuing a Masters in Administration and Leadership at Georgian Court University. She is a speech language specialist in the Howell public school system, and in a private agency seeing children with disabilities, as well as a speech language pathologist for children at CentraState.
Andrea Zacharias of Howell, is currently a graduate student at Lamar University in Beaumont Texas, studying Counseling and Development. She is a Spanish teacher in the Freehold Regional High School District.
The AAUW members thank area residents and visitors for their continued support of the organization's annual June book sale which funds the yearly scholarships.
---
Outstanding High School Students' Award
The Rose Fishkin Scholarship Awards are given every year to the highest-ranking female graduating senior in each of the six Freehold Regional high schools. The high school selects the female student with the highest grade point average at the end of the third quarter.