Click on Headings (and sub-headings) or use the Sidebar for quick LINKS!
(A PASSWORD IS REQUIRED FOR MEMBERS ONLY PAGES)
---
Our thanks to everyone who attended our Book Sale!
August 11  – 14, 2021
DONATIONS for next year's book sale will be accepted in October.
---
The Application Period for the
Lew Williams & Joan Odud Scholarship
for the 2020-2021 Academic Year has been

extended until September 30, 2021

.
---
(2021 AWARDS)
 (The Rose Fishkin Scholarship Awards)
were awarded at our May Branch Meeting on Zoom
May 13, 2021 – 7 PM
---
Thursday, December 17, 2020 – HOLIDAY CELEBRATION!
---
Members (Only) – Password Required: Please see our Members Only pages.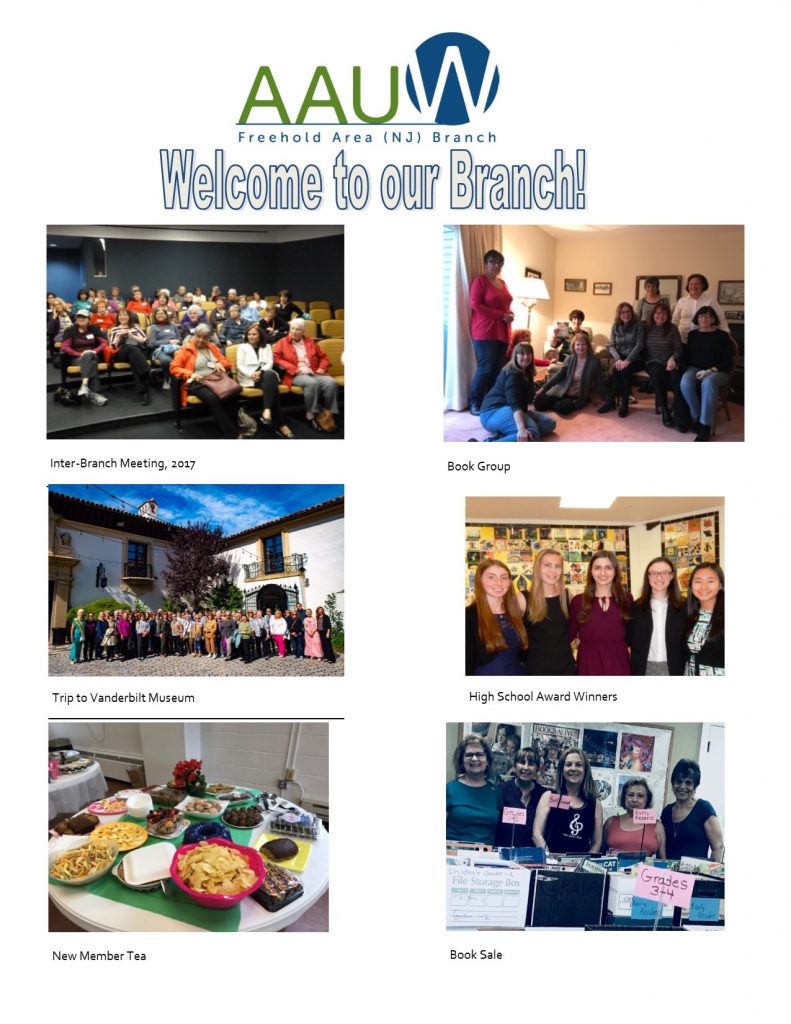 The Freehold Area Branch of AAUW was founded in 1969 and has members from the Western Monmouth County area. 
Our branch unites college women in this vicinity for work on the educational, civic and social problems of the community; aids promising women students by providing opportunities for higher education and research; and cooperates in the programs of the AAUW.
AAUW Mission:
"To advance gender equity for women and girls through research, education, and advocacy."
Join our Branch! Our members are women of diverse cultures, backgrounds and professions. Membership is open to women and men who hold an associate degree or equivalent, bachelors or higher degrees.
Joining our Branch will give you access to "Members Only" information and resources, from our Branch, from AAUW of New Jersey and from AAUW National.
Already a member? Become active, volunteer and take a stand on crucial issues affecting women. Call or email one of our branch contacts below and sign up to play a vital role in promoting education and equity.
Returning Members – Renew you Membership
Dues can be paid via credit card, or can be paid by check (payable to "Freehold AAUW")
See our Membership Page for further details!
See our Reflections Newsletter (available to Members only)
for specific information about our programs, interests and activities.
Keep in touch with branch members and join the conversation at aauwfreehold google group
(Our google group is restricted to members only.)
---
For general inquiries, please contact us via email!
Someone from our Branch will reply to you.
---

AAUW has already trained over 100,000 women online!